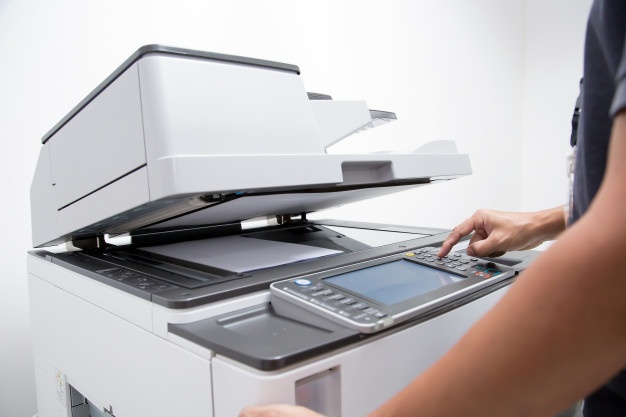 Xerox loves to boast that it is the company that made the modern workplace and users are pleased to see that they are still innovating in the MFP category. What users are referring to is the ConnectKey technology, which is a suite of connected functionality, fronted by a 7-inch touchscreen that offers up a smorgasbord of apps instead of the traditional menu. These applications make a lot of tasks almost as intuitive as if you were using a smartphone.
Xerox recommends the VersaLink C7020 to small and medium-sized businesses, but users think it has the features and capacity to meet the demands of massive offices, although, for very high-volume printing, Xerox has the AltaLink range. With additional drawers on the printer, it can hold up to 5,140 sheets of paper. Meanwhile, Extra-High Capacity toner cartridges can print up to 23,600 pages.
Even in its most basic configuration, this is a massive unit, and weighing 92kg, it can be a struggle for two people to get it off the ground. Users can put it on a desk but it is very much a freestanding design to which you can add from a very strong catalog of accessories. That includes five different drawer units that ride on their own coasters and expand the paper capacity of the printer.
The form factor looks familiar too, with the scanner on top, the paper trays to the side, top and bottom, and a paper-out tray at the center. Where it differs from other printers in the market is the 7-inch tilting touchscreen display. The VersaLink C7020 comes with almost every feature that you can think of and more. The C7020 is positioned towards the top of the VersaLink product tree, it can accommodate A3 paper. Aside from scanning, printing and faxing, this high-spec MFP can be hooked up to a router through an Ethernet cable to enable cloud services, remote monitoring and scanning or printing, to and from email. It also has a WiFi direct connection for wireless printing when there is no internet service.
VersaLink Security also includes raft features in order to protect your business, like Secure Print, which asks for a security code to be entered at the machine, like a PIN, in order to complete a task. There is also password protection for any PDF scans that you create and hard disk encryption to protect any documents that are stored on the printer while they are waiting to print.
But the main selling point for Xerox is perhaps its tablet-style control panel. It presents the user with a selection of apps, instead of a menu, just like a smartphone. To access the settings menu, you can choose the Device app, and for anything else, you just choose the appropriate application.
A few features are included, one of them is USB, which takes you to the options for whatever USB device you have inserted. More free and paid-for apps can be downloaded from the Xerox App gallery. You will find fun things like Xerox Easy Translator Service, an app that lets you scan in a page of foreign language text and print out the English translation.
The consistency and quality of the VersaLink C7020's printing, when it comes to black and white or color documents, is excellent. Text is particularly impressive when you reduce the point size to try and induce smudging or blocking. Colorful documents and maps also demonstrate its consistency in print quality, especially when you are turning out A3-sized pages. It is fast too, with color documents taking no longer than monoprints at 20 ppm.
If you need copiers, you can opt for a copier lease. Copier leasing in Los Angeles can help you get the copier that you need for your office, you can contact copier leasing services in Los Angeles for details.